Our terrain model of the Mornington Peninsula for Ten Minutes by Tractor, Terroir Explainer, was a finalist in the 2016 Victorian Premier's Design Awards.
"Mornington Peninsula winery Ten Minutes by Tractor commissioned a 3D-printed terrain model of their region to illustrate the differences in soil, elevation and climate that differentiate its four vineyards. Cellar door visitors can now easily grasp the factors that influence the grapes grown at each vineyard. Although digital in its origins, design and manufacture, the terrain model is tangible and accessible when placed on the tasting bench next to a glass of wine. The full-colour, three-dimensional map of intricate detail makes the geography of wine fun, engaging and easy to understand." (From the submission entry)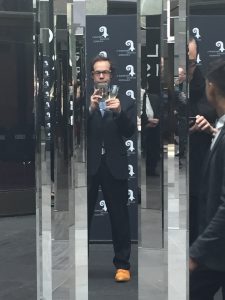 Among the other eight finalists in the Communication Design category were the Melbourne Opera's marketing campaign, events and installations at the Royal Melbourne Institute of Technology and Monash Art Design & Architecture, and the 2016 Melbourne International Jazz Festival branding.
The Communication Design category winner was a towel packaged in a plastic bottle and sold in stores via refrigerators, a marketing concept by the internationally-renowned M&C Saatchi. They have offices in 27 cities around the world and we have …. one desk in one city.