We design custom maps to suit your needs, whether that means one model or many, or whether your map will be mounted on a wall, placed on a table in the centre of a room, or slipped into envelopes.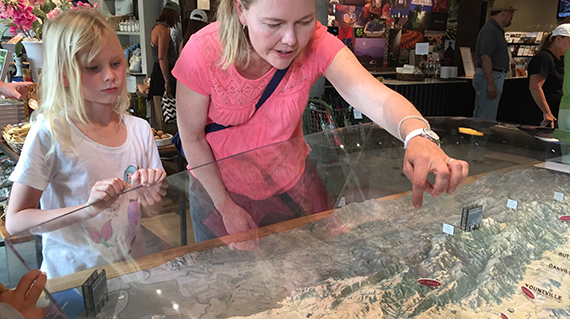 3-Dimensional Models
Landscape Terrain Map/Model
As large as 1.2 x 2.4 metres, these landscape models will make a huge impression on visitors to your visitor centre. Typically the important landmarks are labelled on an aerial photograph of the region, but anything is possible since each one is custom-designed. And they're water-proof, too, so even red wine spills are not an issue.
Table-Top Relief Model
3D-printed relief models look great on the tasting bench and are portable, too. We print in full colour onto a digitally-rendered plaster model of your region, accentuating the landforms that distinguish your local geography and shape the terroir of wine. Our "Terroir Explainer" for a Mornington Peninsula winery was a finalist in the 2016 Victoria Premier's Design Awards.
Plastic Raised-Relief Maps
Does every member of your wine-growing or wine-making association want a few terrain models of the region? We can design and digitally print a 3d map of your wine region and all its vineyards in multiple quantities on a sturdy plastic.
Printed Wine Maps
For convenience and quantity, there's no substitute for a beautiful printed map that can be framed for the cellar door wall or distributed as an informative marketing piece. We have published wine trail maps that help visitors find their way to local cellar doors, soil and climate maps that reveal the terroir, and geology maps that explain the underlying conditions that shape a region's wine.
Get More Details
Download a one-page summary of our 3D offerings to wineries with cellar doors and visitor centres or regional associations.